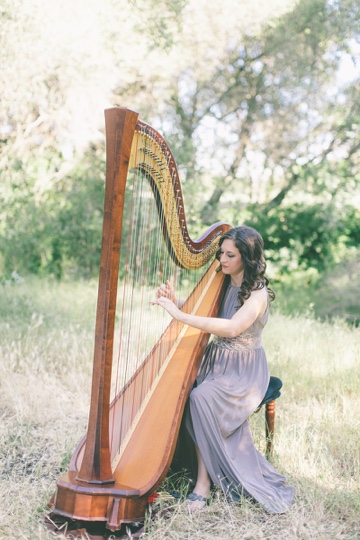 Photo courtesy Melissa Babasin Photograpy, 2015. Used with permission.
You're engaged! Congratulations! Now what? If you are looking at ceremony or reception music, you are probably knee-deep in checklists at the moment and may have some questions.
Should I choose recorded music or live music?
There are pros and cons to each. With live music, the cost includes not only the warm sound of live music and the energy that comes with it, but also the visual aspect of the instrument. My concert harp stands around six feet tall, and will be a beautiful addition to your ceremony space and photos. A harp, though large, is mobile and can be played inside or outside (depending on weather and shade). Volume is not an issue; the harp has an internal mic and I have an amp or can plug into a sound system.
If you have specific song requests that are unable to transfer to a harp, then you might consider recorded music. However, it is fun to surprise your guests with an unexpected song played on the harp!
How much does it cost to have a harpist at my wedding?
It depends on your needs. Outdoor ceremonies and events cost more since there is more wear and tear on the instrument, and I need to bring more gear to accommodate an outdoor venue. Having the harp for your ceremony is a flat fee that includes: 30 minutes of prelude music as your guests are arriving, processional, any ceremony music needs, and recessional music until your guests move to the reception. If you are interested in adding an hour of cocktail music or background music for your reception, I do offer a few packages to help keep the cost reasonable. Background music is otherwise charged on an hourly basis, with an hour minimum. To give you a general idea, you are looking at somewhere in the range of $275-1000. Please contact me with your specific needs and I can give you a more detailed quote.
What music do I need for a wedding ceremony?
Prelude: You will want beautiful music playing to welcome your guests to the ceremony. The prelude is about 20-30 minutes of music before the ceremony. You can choose the exact songs for the prelude if you would like, or I can choose a mix of songs based on your wedding theme or desired ambiance.
Processional: This is the music playing while your wedding party walks down the aisle. Often this begins with the procession of grandmothers and mothers, then the bridal attendants, ring bearer and flower girl if you have them, and culminates with the procession of the bride. You may choose a special song for the grandmothers/mothers, then a separate song for the attendants, and then the song for the procession of the bride. There isn't a standard way for the groom and groomsmen to process, so that is entirely up to you. Sometimes they follow the officiant down the aisle at the end of the prelude, sometimes they just sneak in from the side, sometimes they accompany other members of the wedding party down the aisle and then take their places from there.
Ceremony: Will you have a unity candle? Sand ceremony? Communion? A special time of welcoming into the new family? You may want to choose a special song to be played during a quiet period in the ceremony, or you may not have any need for music during the actual ceremony.
Recessional: This piece is happy and triumphant! You did it! You are a married couple and it is time to celebrate! There will be a special piece for you to walk back down the aisle and then have the wedding party follow you. Usually one or two additional pieces provide enough transition for the rest of the guests to move on to the cocktail hour or reception area.
This is your day, a day to express to those who love you who you are as a couple. Think about each of your favorite songs, or songs that area dear to loved ones. If you would like help choosing music, you can see my list of repertoire for some ideas, and we can work together to create a unique play list during a consultation.
What considerations does the harp need?
The harp is a delicate instrument and is temperature sensitive. Outdoor events require a flat, dry, shady place for the harp. I bring my own hard, dry surface if I know ahead of time and can be placed on the grass. If there is a chance of rain or if it is very cold, the harp needs to be inside. I need an area of about 3 ft. x 5 ft. to set up. If you would like amplification, I have a great system that needs access to power and a more basic system than can run off of a battery. The harp weighs around 100 lbs, so going up stairs is doable, but challenging. I need to know if there are stairs so I can plan on extra hands. Handicapped access is easiest, but stairs are not impossible.
What comes next?
First, contact me for a quote so we can begin to discuss your individual needs. I will confirm if I have your event date available. Then, we can schedule a free consultation. You can meet me, hear some music on the harp, and decide if this is the right fit for your event. I am in the greater Sacramento area, but do travel. We might choose to meet at your ceremony site, have you come to my studio, I can come to you, or we can even meet over Skype. When you decide to book, I will have some paperwork for you with your ceremony information and a contract. A $50 deposit will secure the date and time. The deposit is non-refundable, but does go toward your total. Then, you check "ceremony musician" off your list!