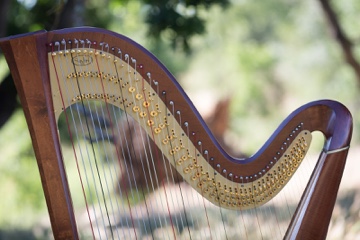 Melissa Babasin Photograpy
This list gives a general idea of songs I have readily available for you. I do have over four hours of music, so not all songs may be listed here. Please feel free to make a request. I can often find piano music for a popular piece and adapt it for the harp.
A few of the songs on the list below will link to a video. Other sound samples are available by request. You may also hear any selection of pieces during your consultation.
Classical
Adagietto, Damase
Air and Rondo, Bochsa
Aria in Classic Style, Grandjany
Ave Maria, Barnwell
Bridal Chorus, Wagner
Dance from "Alceste," Gluck
Jesu, Joy of Man's Desiring, Bach
Lullaby, Schubert
Nocturne, Glinka
Rondo, Pässler
Spanish Dance from "Carmen," Bizet
Tango, Salzedo
Tamborin, Daquin
To A Wild Rose, MacDowell
Trumpet Voluntary, Clarke 
Popular and Folk Songs
All I Ask of You, "Phantom of the Opera"
And I Love Her, Lennon/McCartney
As Time Goes By, "Casablanca"
A Summer Place, (The Lettermen)
A Time for Us, "Romeo and Juliet"
A Whole New World, "Aladdin"
Begin the Beguine, Cole Porter
Danny Boy, Irish Tune
Edelweiss, "The Sound of Music"
Eleanor Rigby, Lennon/McCartney
Fly Me To The Moon, (Frank Sinatra)
From this Moment On, (Shania Twain)
Greensleeves
Grow Old with Me, John Lennon
Grow Old with You, (Adam Sandler)
Hanalei Moon, Nelson
Hawaiian Wedding Song
Here Comes the Sun, Harrison
I Do, Paul Brandt
I Love You Truly, Jacobs-Bond
Iris, "City of Angels"
I Swear, (J.M. Montgomery)
Let It Be Me, (Bob Dylan)
Let There Be Peace on Earth, Miller/Jackson
Longer, Fogelberg
Lothorien, Enya
Memory, Andrew Lloyd Webber
Mission: Impossible Theme, Schifrin
Moonbeams Medley, Arr. Rice:

Clair de lune, In the Evening by the Moonlight, Blue Moon, Moonlight Sonata, Moon

River My Way, (Frank Sinatra)
My Own True Love, "Gone with the Wind"
Over the Rainbow, "Wizard of Oz"
Send in the Clowns, "A Little Night Music"
Simple Gifts, Quaker
Tune Someone to Watch Over Me, Gershwin
Somewhere In Time, Barry
Stairway to Heaven, (Led Zeppelin)
Stand By Me, Ben. E. King
Tammy
The Little Fountain, Pratt
The Notebook (Main Title), Zigman
The Prayer, (Dion/Bocelli)
The Rose, (Bette Midler)
The Wedding Song (There is Love), (Peter, Paul, and Mary)
Thousand Years, Christina Perri
Through the Eyes of Love, "Ice Castles"
Time to Say Goodbye, (Bocelli)
Turn Around, Belafonte/Green
Vuelie, "Frozen"
Watermark, Enya
Welsh Airs No. 2 and 3, Arr. Milligan
What a Wonderful World, Weiss/Thiele
When I Fall in Love, Heyman/Young
When You Wish Upon a Star, Washington/Harline
Wind Beneath My Wings, (Bette Midler)
You'll Never Walk Alone, "Carousel"
Your Song, Elton John
Hymns
Amazing Grace
Beautiful Savior
Be Thou My Vision
Great Is Thy Faithfulness
O Perfect Love
Morning Has Broken
Spirit
The Old Rugged Cross
This Is My Father's World
When I Survey the Wondrous Cross