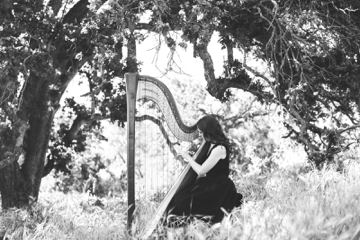 Photo courtesy Melissa Babasin Photograpy, 2015. Used with permission.
Wedding Ceremonies
Indoor and outdoor ceremonies include a consultation, 30 minutes of prelude music, processional, special ceremony music, recessional, and postlude until all the guests have left their seats. Themed ceremonies (Celtic, steampunk, etc.), special dress, and song requests are available at no additional cost. Prices vary due to indoor and outdoor ceremonies, special requests, travel, and stairs.
Background Music
Christmas parties, dinner parties, birthday parties, other special events, and general background music is available at an hourly rate, with a one hour minimum. Four hours of non-duplicated music is available in a variety of genres and styles.
Funerals
The harp is a beautiful way to honor your loved one at their service. I aim to accommodate song requests and work with you to plan a beautiful and fitting memorial.
Orchestral/Accompaniment
I have over fifteen years of orchestral and ensemble experience. Contact me to discuss your needs as far as rehearsals and performances.
Lessons
Harp lessons are available to students aged five and up. Beginners start with 30 minute lessons, but longer lessons are available for more advanced students. I also have harps available for rent. It is never too late to live out your dream of playing the harp!
Presentations/Lectures
I love to share my love of the harp through classroom presentations for preschool through college. If you have a class that would benefit from seeing, hearing, and learning about the harp, please contact me. I bring both the pedal harp and a lever harp and discuss the differences in the instruments. For older students, I also provide useful information on composing for the harp and how the harp functions in an ensemble.
Gift Certificates
Gift certificates are available for any service.